My Father, the Dog
Have you ever noticed certain similarities between your father and, say, a lab or golden retriever? Many dads have a whole lot in common with friendly, lovable, sometimes barky dogs. Dads and dogs can be so similar, in fact, that the young narrator of My Father the Dog is suspicious.

"My father pretends to be human, but I know he is really a dog," she says. "Consider the evidence."

She proceeds to lay out an inarguable case, citing newspaper fetching, ball chasing, treat loving, pit stops against trees, and many more qualities of loyal, lovable, family-protecting dads and the dogs they resemble.

If you doubt the similarities, just read this book to any dog -- or dad. They'll back me up.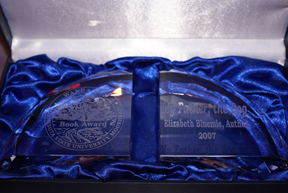 Wanda Gág Read Aloud Book Award

Minnesota State University Moorhead has given me the biggest thrill of my authorly life thus far: the 2007 Wanda Gág Read Aloud Book Award (for ages birth to age 8) for My Father the Dog.

The award comes with a beautifully designed medal for the book cover, and they also sent the most gorgeous set of crystal bookends etched with the award seal on one bookend and my book title and name on the other. The best thing of all, however, is the thought of all those children in Minnesota laughing as they read my book. And to win an award named for the great and quirky and original Wanda Gág? My cup truly runneth over.

Thank you so much, Minnesota.
HONORS
Book Sense Children's Picks List Selection
"A hilarious comparison of dad and a dog -- wow, what a resemblance! You can't help chuckling when you read this one." --Janet Bibeau, Storybook Cove, Hanover, MA

REVIEW QUOTES

Kirkus Reviews
04/01/2006
"Tail-wagging hilarity that's simply doggone funny - and a perfect Father's Day gift."

School Library Journal
07/2006
The clean, yet warm oil paintings are the perfect accompaniment to the understated and almost deadpan delivery, and they enhance the humor of this doggone good tale. It's ideal for storytimes or one-on-one sharing.
–Piper L. Nyman, formerly at Fairfield Civic Center Library, CA

Publishers Weekly
05/08/2006
"Appealingly flippant. . . . Young dog lovers will lap this up."

Booklist
05/15/2006
"The charm of the characters, particularly the dad and the pooch, is perfectly conveyed. . . . Children will appreciate the humor in this view of a dad in an ordinary, but cozy family."

Horn Book Guide Reviews 2006 Fall
Website: http://www.hbook.com
Using a dry, spare poetic voice, the narrator of this comical book is a serious young girl who doesn't miss a thing. She explains that her father shares many habits with the family dog, including napping, scratching, and fetching. The text is accompanied by humorous oil-painted illustrations that have a scratchy, textured look. Copyright 2006 Horn Book Guide Reviews.
Publishers Weekly

"My father pretends to be human, but I know he is really a dog," begins bookseller Bluemle's appealingly flippant debut. Backing up her assertion, the girl narrator explains that, like her dog, her father fetches the newspaper, likes to ride in the car with the breeze on his face, and "growls when you startle him out of a nap." A couple of manners-bending comparisons will elicit snickers from kids, as parent and pooch (discreetly) use a tree "for a quick pit stop" and the two sit on the couch looking deceptively nonchalant as the youngster notes, "When he toots, he looks around the room like someone else did it." Depicting these human and canine characters in various parallel positions, the art comically captures the similarities between man and pet. Cecil (And Here's to You! ) nicely alters the pacing with oval-shaped illustrations that give way to full-bleed spreads (e.g., for "If you throw a ball, he'll chase after it," Dad and dog cover the backyard to make a catch), and his textured brushstrokes work effectively as blades of grass or as fibers on the couch. A final comment, which the girl makes while patting her father's head at bedtime, ends the book on a note at once sweet and sassy: "My father is loyal and thinks we're the best family in the world... which is good, 'cause Mom says we can keep him." Young dog lovers will lap this up. Ages 4-7.(May)

Copyright © 1997-2005 Reed Business Information, a division of Reed Elsevier Inc. All rights reserved.

School Library Journal

BLUEMLE, Elizabeth. My Father the Dog. illus. by Randy Cecil. unpaged. Candlewick. 2006. RTE $15.99. ISBN 0-7636-2222-2. LC number unavailable.

PreS-Gr 3–In this funny picture book, a young narrator shares her unusual concern: "My father pretends to be human, but I know he is really a dog." She goes on to list the undeniable evidence: he likes a good scratch, growls when he is suddenly awakened from a nap, and when he toots, he looks around as if someone else were responsible. The illustration of the girl peeking under the dining table to see if he is begging for treats offers a clever shift in perspective. The clean, yet warm oil paintings are the perfect accompaniment to the understated and almost deadpan delivery, and they enhance the humor of this doggone good tale. It's ideal for storytimes or one-on-one sharing.
–Piper L. Nyman, formerly at Fairfield Civic Center Library, CA