Tap Tap Boom Boom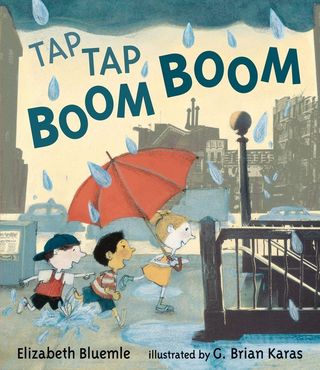 One of my favorite things about living in New York City was the chance to have wonderful small, funny, bonding moments with strangers on the streets, in buses, on the subway. Like my book, HOW DO YOU WOKKA-WOKKA?, TAP TAP BOOM BOOM is a tribute to the best aspects of big-city living. Plus, it has lightning! The inimitable G. Brian Karas illustrated TAP TAP BOOM BOOM, perfectly capturing the glorious chaos and community of thunderstorms in cities.

Here's how my publisher, Candlewick Press, describes the book:

"The clouds are gathering above a city street and soon -- 'tap, tap, boom, boom!' As a thunderstorm rolls in, people of all stripes race down to the subway to get away from the crackling rain and wind. With quirky wordplay and infectious rhymes, Elizabeth Bluemle crystallizes an unexpected moment of community, while G. Brian Karas's warm illustrations show the smiles to be had when a storm brings strangers together as friends."
REVIEWS

Starred review from Publishers Weekly (12/9/13):

"In toe-tapping, jazz-chant verse, author, bookseller, and PW blogger Bluemle (How Do You Wokka-Wokka?) writes about the way a sudden thunderstorm "makes friends/ of strangers." At the story's start, two boys in a playground gaze through iron railings at a girl in a yellow dress hurrying to keep up with her father. On an ordinary day she'd disappear into the crowd, but when the rain starts pelting down, the boys, the girl and her father, and half a dozen others dash for the subway station: "Feet wetter?/ You'd better/ go down/ underground,/ where the water/can't getcha./ You betcha." Over photographic images of subway fixtures, Karas (The Apple Orchard Riddle) draws people chatting, sharing pizza, and shrinking away as their dogs shake themselves off, balancing the force of the storm with the warmth of city-dwellers sharing an unexpected break in their day. Bluemle's story unfolds on a scale just right for preschoolers, with plenty of hullaballoo, subtle attention to the senses, and an affirmation of the way misfortune can lead to small miracles. Ages 3–7. Author's agent: Erin Murphy, Erin Murphy Literary Agency. Illustrator's agent: Brenda Bowen, Sanford J. Greenburger Associates. (Mar.)"

Kirkus Review (1/15/14):

A sudden thunderstorm inspires an impromptu gathering of congenial strangers. It all begins with darkening skies and a few drops of rain. Out come the umbrellas as the thunder roars, the wind swirls, and the rain comes pouring down. People make a run for it to the shelter of the subway. There are lots of smiles and laughter and sharing—a brief communal moment—and then it's over, and everyone disperses to see a rainbow: "[s]urprise in sky." Bluemle employs bouncy, fast-paced rhymes and rhythms with words that emphasize sound and movement. The title phrase repeats throughout, augmented by "slam bang" and with an additional "crackle" to indicate lightning as the storm intensifies. The text, appropriately varied in size and boldness to match the storm's activity, moves across mostly double-paged spreads and intermingles with the illustrations. Karas, perhaps influenced by Mo Willems' Knuffle Bunny, sets gouache and pencil drawings within collages of photographs of New York City. Backgrounds appear subtly rain-washed or as faded sepia photos of buildings. Blacks, grays and earth tones are highlighted with taxi-yellow and occasional pops of orange, red and green. The ethnically diverse characters are animated as they head for the subway stairs, and there are delightful details to elicit giggles from young readers. Cuddle up for a rainy-day adventure. (Picture book. 3-7)
The Horn Book review:

Tap Tap Boom Boom
by Elizabeth Bluemle; illus. by G. Brian Karas
Preschool, Primary Candlewick 32 pp.
3/14 978-0-7636-5696-6 $16.99

Many picture books about storms are set in the country (e.g., Shetta Crum's Thunder-Boomer!, rev. 7/09), but this one takes place in the big city. Bluemle uses rhymes and rhythms to convey the sudden changes in the weather: "Sky grumbles. / Rain tumbles. / Big weather— / you'd better… / get under / umbrella! / 'Cause thunder / is coming: / BOOM BOOM." Collage illustrations catch the city people from a variety of perspectives, looking up at the sky, clinging to umbrellas, and then hustling down to the subway for shelter, pummeled by fat raindrops. People of all ethnicities, ages, and sizes (along with their dogs) wait out the storm, while musicians play and pizza and umbrellas are shared. The emphasis here is not on a child's fear of storms but on the excitement of the experience, all finished with "a surprise in the sky" of a rainbow. Karas's pictures combine painting, drawing, and photographs to show the grit, energy, and beauty of the urban scene and its amusingly quirky people. This would make a great pair with John Rocco's Blackout, with both books celebrating the urban experience of community. susan dove lempke
Bulletin of the Center for Children's Books review:

Bluemle, Elizabeth Tap Tap Boom Boom;
illus. by G. Brian Karas. Candlewick, 2014 [32p] ISBN 978-0-7636-5696-6 $16.99 Reviewed from galleys R 5-8 yrs

A rainstorm begins slowly with a "Tap TAP" of drops spattering the city landscape, and as the storm builds, street carts selling rain gear appear on the sidewalk, umbrellas go up, and, eventually, people flee to the subway for protection: "Downstairs we wait./ Folks congregate./ We squeeze./ Whose feet and knees are these?" The unexpected underground gathering encourages a neighborly feeling, and strangers share pizza and make friends while waiting out the storm. Finally, the storm dissipates and people emerge from their subway shelter: "We race upstairs./ Shake drops off hair./ 'Look up!' we cry./ Surprise in sky." Sure enough, a rainbow appears as folks return to their big city business:"'Til the next/ Tap TAP Tap TAP/ BOOM BOOM/ 'Til the next/ Tap TAP/ BOOM BOOM!" The sonorous language of Bluemle's rhythmic text makes it a pleasure to read aloud, and though the rhymes are sometimes approximate ("One girl all fancy/. She's late for dancing"), the overall narrative is smooth. Karas' illustrations—a mixture of photographs, gouache, and pencil—are as expressive and detailed as always, and the combination of media expertly captures both the energy of a big city and the quietness of a pause in the commotion. A multicultural cast of distinct figures, several of which can be followed throughout the book, moves across the pages. The large, clear sans serif font and short, simple phrases might also put this within range of novice readers who can handle an occasional challenging vocabulary word. Save this for a rainy day, or pair it with Hesse's Come On, Rain! (BCCB 4/99) for a dynamic duo of city shower stories. JH